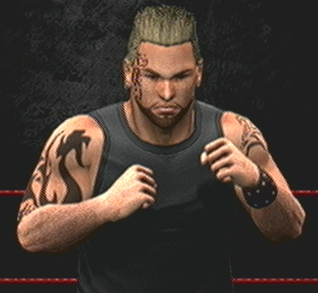 Big D, real name Daniel Latter is a professional wrestler from the world of CAW. He is currently signed to the XWF.
Big D is a feared individual, known for his intimidating size, utilizing extremely powerfull moves and for being relentless inside the square circle.
Early Years 2003-2007
Edit
Big D spent alot of time being a dominating powerhouse in the indies, he spent a large amount of time in the CWA, where he became notorious for a 55 match winning streak and had some highly rated feuds with wrestlers such as indy favorite Max Murphy.
EWA Career 2009-2010
Edit
Big D would sign to the EWA in 2009 where he would go on on a short winning streak before being defeated by Triple D. Big D would be sidelined shortly after with an injury.
XWF Career
Edit
The Owner signed Big D before the XWF had begun. Big D was instantly entered into the "Demolition Series" which would eventually crown the first ever XWF World Heavyweight Championship, Big D made it through to the final four in the tornament but was defeated by Dr Khan. Bouncing from his elimination from the Demolition Series, Big D would take out Ken Tarrif and enter himself into the No Holds Barred Championship crowning match at Demolition, where Big D would loose to Damage. Big D would challenge Damage for a rematch at the next PPV, Rampage, but again would fall short. Throughout the mid section of Season 1, Big D would suffer many losses and be given a nickname "Big J" or "Big Jobber". Big D went to The Owner and Dr Khan during the XWF Vs XWA battle and asked for his chance to prove his worth. Big D faced Matt King at Absolution for the No Holds Barred title, but lost. However after the match he chokeslammed Matt King and pinned him winning his first No Holds Barred Championship reign.
Season 2
Edit
Big D started Season 2 as the No Holds Barred Champion, proving to be a solid and credible champion. Big D defended the title against many competitors, such as Matt King, Clayton Carver, Crow and Tsunami.
Total Impact (2017)
Edit
Big D was announced as part of the Legends Caw Tournament where the winner would attain a Legends Contract with Total Impact. 
Finishing and Signature Moves
Edit
Finishing Move(s)
Signatures Move(s)
Triple Powerbomb
Big D Over the Top
XWF Title History
Edit
XWF No Holds Barred Champion - 1x (Current)