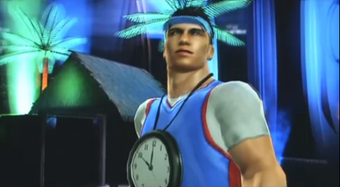 The Franchise Player is a CAW wrestler, who currently singed to the CAW promotion UWA (Urban Wrestling Association) under his real name Alex Richards, YCW (YouTube Championship Wrestling), and ELW (Extreme Legacy Wrestling). He is a former UWA World Champion, Tag Team Champion, West Coast Champion and No Limits Champion and was the former ELW Champion.
UWA (2009 - present)
Edit
The man who was involved with the biggest swerve in UWA, if not wrestling history. Who would've believed that The Franchise Player, and the Taxman were one in the same. Played by Alex Richards. Not long after all this was revealed, he won the Master Ring to re-instate Vaughn Kreed. Then went on to form the most vindictive faction ever, the Franchise Nation.Alex Richards is now out to control the UWA by holding all the titles, the title briefcases, and the Master Ring. The Icing on the cake is to be the UWA Champion which he was successful in doing so. For more info on his UWA statics and career, visit:
http://www.youtube.com/user/mariosthemaster
ELW (2012-present)
Edit
Debut and ELW ChampionEdit
The Franchise Player made his ELW debut in Extreme Rules, he would go on to win the first ever Championship Scramble match to crown the first ECW Champion. His first title defense would come at Danger Zone, where he faced off against British Hero in a Extreme Rules match and would successfully defend the belt. Franchise fought Mario Sánchez at The Bash event but the match ended in a no-contest due to Corporation-X (Bison and BH 3 Tearz) interferance. On the second episode of RAW Danger Zone, Mario teamed with Mario Sanchez to defeat the Corporation-X to become the new WWE Tag Team Champions, after the match he and Mario was attacked by Burke. Later the belts were returned to the WWE. At Money In the Bank, The Franchise Player would lose his ELW Championship to Burke after Rodney Bronk interfered.
YCW (2013-present)
Edit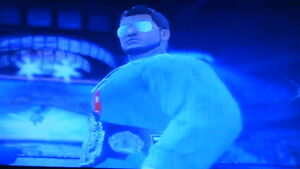 It has been reported that The Franchise Player has signed a contract with YCW (Youtube Championship Wrestling). He is set to debut very soon.
Championships & Accomplishments
Edit
UWA
UWA Champion - 4x (Current)
Tag Team Champion - 1x with Steve Hebert
West Coast Champion - 1x
No Limits Champion - 1x
2010 Square of Despair Winner
Main evented Pandemonium 10 and 13
ELW
WWE
WWE Tag Team Champion - 1x, with Mario Sanchez as Franchise Nation
Nicknames
Edit
Entrance song
Edit