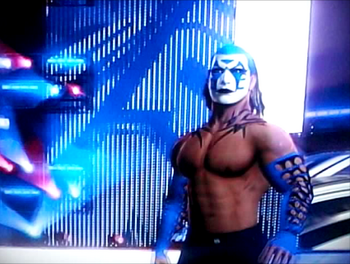 Justin Electric is an original CAW, is currently signed to the CAW promotion ELW (Extreme Legacy Wrestling). He is brothers with Chris Electric.
ELW (2012-present)
Edit
Impressive Debut and ELW Career

Edit
Justin Electric made his ELW debut on the first episode of Saturday Fight Slam by defeating America O´ Clock. At The Bash, Electric fought Tiarnan in a singles contest and won. 
After his impressive debut, GM Mr. AL named him #1 contender at the Intercontinental Championship. Justin Electric helped Lula by attacking Tar at the bash and hit him with a Swanton right after Tar ruined the match. He then teamed up wuth Lula to face angus and tar in a steel cage match at Smackdown and Lula and Justin Electric won.Now he will face tar in a #1 contender match for the intercontinental title and Justin Electric won by a a mysteriou superstar attacking Tar and he pinned him. Next at Smackdown Justin went vs Micheal Fireblaze but both go attacked by Angus.
Intercontinental Champion
Edit
At Reject, Justin Electric would defeat Intercontinental Champion Roberto Gonsalez in a Ladder Match to win the title after Younes Xevion helped him fend off Roberto's allies.
Championships & Accomplishments
Edit
ELW:
Intercontinental Champion - 1x (Current)