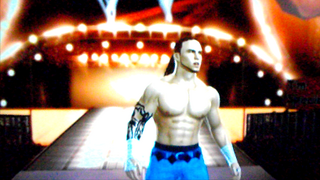 Ricky Anderson is an original CAW, who currently signed to the CAW promotion ELW (Extreme Legacy Wrestling).
ELW debut in 2005
Edit
Ricky Anderson has been in ELW for quite a long time this guys is a brawler he made his debut by bieng Kid Wild rookie and Kid Wild was done being his mentor and let him be on his own in the smackdown locker Room.
ELW (2007-present)
Edit
He started in the intercontinental contenderhip by defeating X-ray they shook hands right after the match. Then he was the longest reigning intercontinental but not until the Giant Tar come to claim a championship. They met at Bragging Rights and they had a Steel Cage match lucky Ricky had Brass Knuckles but then dropped them and lost them Ricky had anithother idea to kick him in his injured head with a super kick then a few boxing punches  and climbed the steel Cage. Tar wanted a last man standing match at Judgement Day and Tar had winning chance. Ricky anderson encountered with Burke and encountered also with Dark Shade on the next day. Dark Shade injured burke because he wanted Ricky for himself so he can show ELW he can defeat The Brawler Ricky Anderson. They met in a cell at No Mercy Ricky came with a win and then Dark Shade went to RAW winning a ELW champion.royal rumble he had wanted to go to Wrestlemania so he mad a tag team with Kid Rock and went to wrestlemania with gold at the end..Ricky Anderson was talking Smack about Angus and Angus was Face at the time the crowd did not like ricky for saying that but angus and ricky were in a long rivalry and met at TLC in 2011 and in that match he had got injured.
Career Accomplishments
Edit
ELW:
World Heavyweight Champion - 3x
Intercontinental Champion - 2x
TagTteam Champion- 1x with Kid Rock
Harcore Championship - 2x
United States Champion - 1x