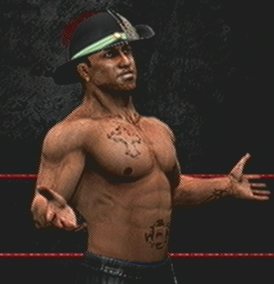 The Dog (real name Jace Tyson) is a professional wrestler from the world of CAW. He is currently signed to the XWF.
The Dog is known for his comedy role, often dancing during his entrance and during matches.
During his time on the indy circuits and in the XWF developmental area he was known by the names "Fiddy Jackson" and "Token" before finally changing his name to "The Dog"
XWF Career
Edit
The Owner brought was bombarded with emails from fans claiming he should sign The Dog from the developmental area. The Owner decided to listen to the fans and hired The Dog leading up to the first XWF Show.
Finishing and Signature Moves
Edit
Finishing Move(s)
Pimp Cane
Wet Doggie in the Microwave
Signatures Move(s)
Woof Woof Splash
Dog Poo
Doggie Doggie Doo
XWF Title History
Edit
The Dog currently has no title history in the XWF.