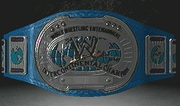 The XWF Internet Championship is one of five current championships in the XWF. It is recognized as one of the most prestigious singles prizes in whole of the company, second only to the World Heavyweight Championship.
Birth of the Internet Championship
Edit
The Internet championship was debuted on the first ever episode of Aftershock on 18/01/12, intended as an "Aftershock only" title used to boost some of the lower card wrestlers and prime them for Shockwave. The title however soon gained steam, and began to appear on Shockwave and Pay Per View events.
As of the Redemption pay per view (released 17/12/12) all the XWF championship belts were given a redesign. The internet Championships new look was very similar to the original, but featured a silver design on a light blue belt strap.
10 Defend Rule
Edit
Starting Season 2, The Owner brought in a new rule for the Internet Championship, called the "10 Defend Rule" The rule states that if the holder of the belt successfully retains the title 10 times, he may "cash" the title in (Give up the belt) for a title shot at the World Heavyweight Champion. Tobius Upson was the first wrestler to have the title during this rule, and defended the title 9 times, before dropping it to Jacob Drake at the Meltdown PPV.
10 Defend History Edit
Tobius Upson (9 Defences)
Title History
Edit
Since the XWF started, there have been numerous Internet Championship reigns, they are listed below in chronological order :-
Jacob Drake
Titus Valentine
Havok
Johnny Kamikazi
Junction
Mike "The Viper" Jacobs
Tobius Upson
Jacob Drake (Current) (2nd Reign)