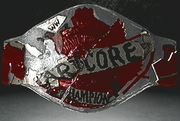 The XWF No Holds Barred Championship, often abbreviated as "NHB" is one of five current championships in the XWF.
It is characterised by its violent style of matches often employing "Extreme" or "Hardcore" rules, blood, and over the top spots.
"No one is safe" Rule
Edit
The No hold barred division features a "No one is safe" rule. This rule applys to both The No Holds Barred champion and the number one contender for the No holds barred championship. The champion must be aware that as long as he is a part of a legal match, anyone is eligible to defeat him (via pin of submission) This includes wrestlers that interfere in a match.
The number one contender must be aware that if anyone is to prevent them from attending an arranged title match, then said person may put themselves in the number one contenders place.
As of the Redemption pay per view (released 17/12/12) all the XWF championship belts were given a redesign. The No Holds Barred Championships new look was very similar to the original, but featured a a red blood style design on a silver belt strap.
Title History
Edit
Since the XWF started, there have been numerous No Holds Barred Championship reigns, they are listed below in chronological order :-
Damage
Tsunami
Abomb
Ken Tarrif
Havok
"The Supernatural" Matt King
Big D
Clayton Carver
Shaun Savage (Current)